Stratherm® System / Super Stratherm · G / Stratherm® · I
Heat Storage Technology
What is heat storage technology?
The application of heat storage tank between heat source equipment and air conditioner enables the reduction of heat source equipment capacity through controlling heat production, consumption and so as utilization of stored heat in peak time.
Want to reduce CO2 and enhance energy efficiency

Want to make the best use of limited spaces

Want to heighten equipment efficiency and paint quality
Stratherm® System (Temperature-stratified-flow Heat Storage Tank)
Overview
Promotion of Energy Saving for Heat Source Plants
A heat storage tank stores inexpensive night-time power in the form of heat in an underground or aboveground water tank, and utilizes it during the daytime, the peak hours of heat demand. This can greatly reduce the unit price of energy consumption, and provides significant cost savings in electricity. It also allows the capacity of cooling and heating source devices to be downsized.
Utilizing a heat storage tank, cold water can be supplied at a consistent temperature. In case of an emergency, such as a power failure, it can also offer the benefit of continuous operation in cooperation with a backup power source.
Super Stratherm · G (Ground-based Super-stratified-flow Water Heat Storage Tank)
Overview
Cost & Space saving, Highly-efficient Heat Storage Tank
This technology is recommended for customers who want to introduce a heat storage system but don't have enough space for installation.
Traditionally, water heat storage tanks have been installed in building facilities such as an underground pit. This has imposed a heavy restriction on the use of the tank, making it difficult to draw the full benefits of it.
As opposed to traditional underground heat storage tanks, our ground-based super-stratified-flow water heat storage tanks can be built separately with full functions of traditional tanks making them free from various restrictive installation conditions. They deliver higher efficiency and significantly contributes to reductions in running costs.
*

Super Stratherm was awarded the Heat Pump & Thermal Storage Technology Center of Japan's Prize for Promotion in June 2002.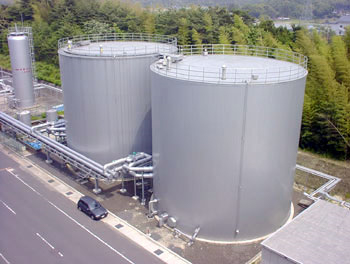 Example Installation
Features
Cost saving

This technology enables you to shift electricity use from daytime to nighttime, reducing the per-unit price of electric power. The result is a reduction in your running costs.

Space saving

This ground-based tank incorporates a heat storage tank in the one unit, so when installing in a facility such as a factory, it could be installed in a corner area of the parking lot, using the total footprint of only seven or eight cars.

High efficiency

This system operates the Energy Plant device with the highest efficiency, raising COP higher.
By sending a small amount of water from the medium temperature layer in the tank to the intake side of the cooling machine, it prevents the low and high temperature sides from being mixed, providing a heat storage efficiency of 95% or higher.

Reduces the required capacity of Energy Plant devices. (Reduction of the initial cost of powered facilities)

Reduces the base cost of electricity.

Construction can be completed in a short-term.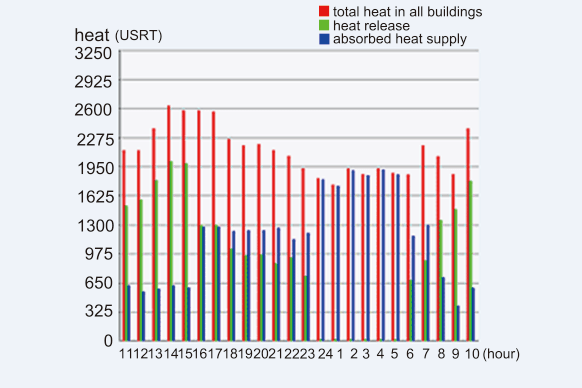 Heat supply chart for super stratherm G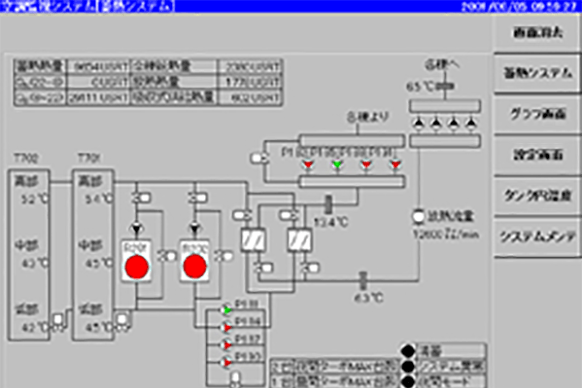 Monitoring screen for super stratherm G
Stratherm® · I (Supercooling Dynamic-type Ice Thermal Storage System)
Overview
High-density Heat Storage System Using the Latent Heat of Ice
In response to ever-increasing cooling loads, utilization of power leveling and reinforcement of heat storage in limited spaces are required. Stratherm® · I is designed to expand the heat storage capacity by utilizing the latent heat of ice.
General Features of Ice Heat Storage

Provides high-density heat storage using the latent heat of ice.
Uses a more compact heat storage tank than that for water heat storage.
Consistently produces low-temperature cold water.

System of Stratherm® · I

Accommodates for increases in cooling loads without an increase in contracted electric power.
Enables electric power leveling (peak cutting) by expanding the utilization of night-time power with night-time heat storage operation.
The exiting heat storage tanks can also be used for expanding the heat storage capacity during renovations.
Features
Flexible installation

Can be built on-site, imposing fewer restrictions on installation of the ice machine, cooling machine, and heat storage tank.

Stable ice making operation

It can stably produce ice water slurry with its own supercooling canceller.

Ideal for renovations

When expansion of the heat storage capacity is required in response to an increase in cooling loads, the system can be converted to an ice heat storage tank using the existing water heat storage tank.

Good ice-melting characteristics

Capable of providing a large volume of stable, low-temperature cold water in a short period of time, the system effectively reductes power consumption during peak load hours.

Example of system flow
Case study
In operation in our Research and Development Center.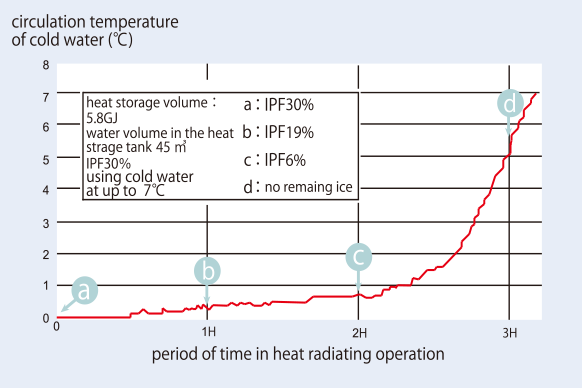 Temperature characteristics of cold water circulation in heat radiating operation
(Conditions of heat radiation: Support for three-hour peak cutting load, the tank stirred)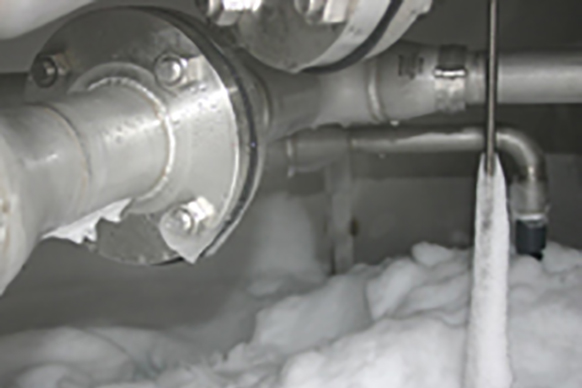 Inside of a heat storage tank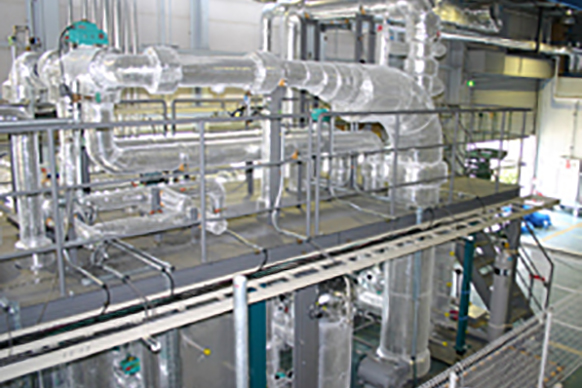 External view of a supercooling canceller (Ice nucleus generator)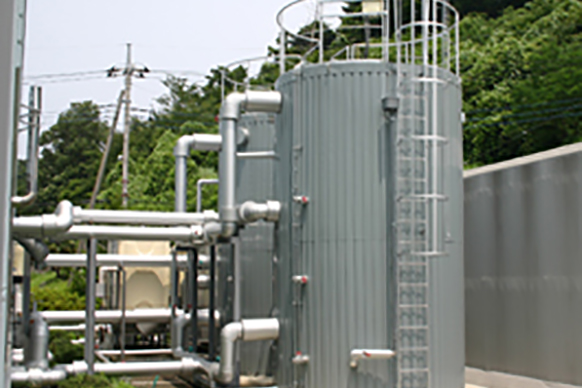 External view of a heat storage tank (Also applicable to an underground heat storage tank)