Air Infection Block Plus
Infection Prevention Technology
What is infection prevention technology?
A negative pressure, air circulation, filtering technology aimed at preventing airborne infections caused by droplet nuclei from sneezes or coughs containing infectious organisms.
This technology drastically reduces the contamination concentration via micro-droplet and droplet nuclei by air-flow control technology.
Want to eliminate harmful substances/viruses

Want to enhance safety and reliability
Overview
"Air Infection Block Plus," a transportable high-performance air barrier unit that can reduce the risk of exposure to the virus infection simply through installation in a required place such as when Healthcare professional performs medical procedures with patients in face-to face or when medical examinations via specimen collection for PCR tests, etc. Air Infection Block Plus protects healthcare professionals with a "unidirectional air flow" that has a centralized configuration of the air curtain and the air inlet on the patient's side. It prevents the spread of virus by partial virus-removal dust collection system and recirculating filtered air in closed or crowded places.
Features
Blocking Bidirectional Air Migration

Air Infection Block Plus blocks bidirectional air migration with the air curtain positioned at the opening of the partition between patient and the healthcare worker. Combined air flow technology ; the auxiliary jet and active attraction to the air inlet-, Air Infection Block Plus blocks infected individual's exhaled breath and coughs coming thorough the partition to the upper bodies of healthcare workers who are managed to take care of patients in face-to-face.

Sterilization and Virus Inactivation*1 by Lytic Enzymes

Moreover, by adopting the sterilization/enzyme HEPA filter PACMAN*1, sterilization and virus inactivation*2 by lytic enzymes can be expected from this partition-type air barrier unit.

Easy to Move and Install

As one of the features of this unit, which has no hood, small and space saving. Easy to move and install.

Adjustment of the Opening according to the Treatment Posture

The sliding function of the transparent resin panel in the central opening ensures the adjustment of the opening according to the treatment posture. The body of the unit is equipped with a pre-filter, which extends the longevity of the HEPA filter.

Cleaning the entire room air

It offers an additional advantage in increasing the ventilation frequency so the entire room air can be kept clean.
Proprietary enzyme technology enables the enzyme filter to dissolve the envelope shell of the virus and theoretically ensures the inactivation of virus having envelopes.

ABSOLUTE FILTER PACMAN is provided by Kondoh Industries, Ltd.
Specifications
Filter
ABSOLUTE FILTER PACMAN
Model: N1-1LEA -620300 BS (Filter scan test Qualified)
Filter Size: 620 x 300 x 150
Efficiency:PAO test (99.97% or higher on 0.3μm particles)
Main body
Melamine plated copper
Transparent resin panel with adjustable transparent resin panel for opening
Equipped with casters
Size
1800 (W) x 700 (L) x 2000 (H) or less
Fan Volume
9.9CMM x 250Pa
0.14kW x 0.7A
Input Voltage
Single-Phase AC 100V, 50Hz / 60HZ 0.14KW×0.7A
Product Weight
Approx. 190 Kg
Sample Image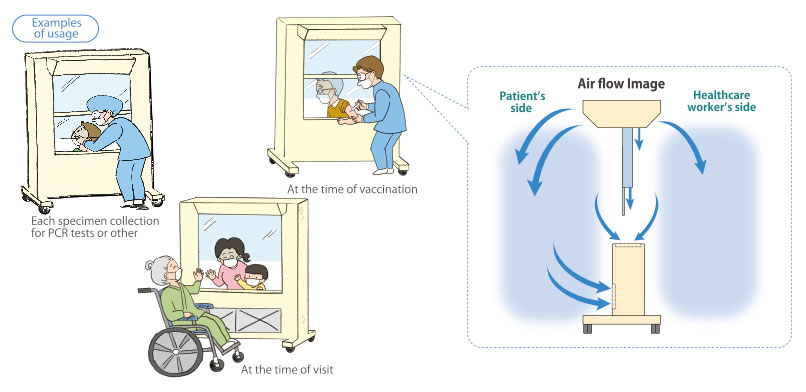 Introduction Video