Vege-factory
All-LED Plant Factories
Want to lift productivity

Want to improve labor environments and achieve automation
Overview
Vege-factory: World's only facility which can produce crisphead lettuce in a large volume.
Features
Environmental Control Technology
Superior plant technology taking advantages of an environmental engineering company
Excellent irradiation efficiency

Our highly efficient lighting system with reflective panel can produce vegetables with an optimum lighting time that is best suited for the nature of the plant body. In addition, the Farm achieves substantial reduction of electricity cost by utilizing night-time power.

Air Conditioning System for Multistage Grow Beds in a Large Space

Taikisha's unique air conditioning system prevents inconsistency in temperature and humidity among multistage grow beds in a large space, maintaining constant environment to grow vegetables.
Effective Design
State-of-the-art engineering technology to reduce production cost
Multiple cultivation shelves

Our multi-shelf structure of maximum 12 shelves will greatly improve the efficiency of using space.

Improving work environment

The intermediate stage system will improve work efficiency and create safe working environment.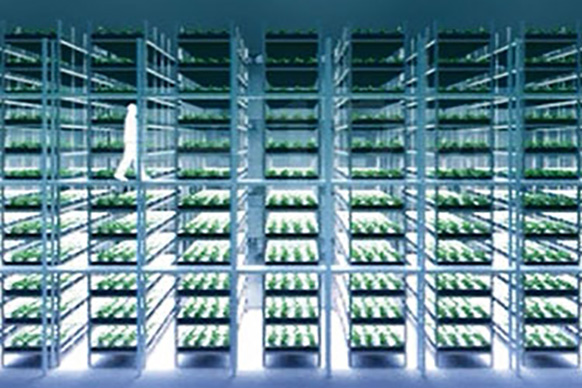 Cultivation Technique
The cultivation techniques that achieve increase of harvest
Hydroponic plant using nutrient solution

A stable harvest of 365 days a year can be realized by the continuous cultivation system, where the nutrient solution is supplied by circulating and recycling system.

Applicable Vegetables

The Farm can grow a variety of vegetables including crisphead lettuce, which was said to be impossible to grow in plant factories using only artificial lighting. Moreover, there is a possibility to evolve into new production fields such as high-function-vegetables and preventive medicine.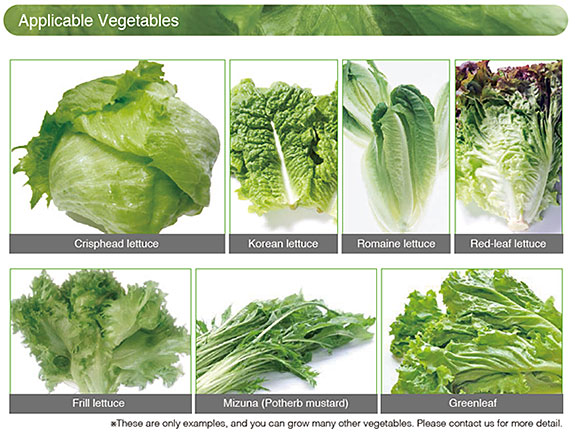 Safe and Reliable
Pesticide-free* Cultivation and Uncompromising Hygienic Control Technology by Germ- and Insect-Prevention System
Clean Environment

Vegetables are safe, reliable and hygienic because they are cultivated without the use of any pesticides in a completely enclosed and clean emvironmnet, shutting out the outdoor air. Quality and taste are improved by the environment that is best suited for growing vegetables.

Germ- and Insect-Prevention

We realize a thorough and uncompromising hygienic control by using our technologies such as antibacterial filter and monitoring technology.

*No pesticides are used during the cultivation period (the period from sowing to harvesting).
*Cultivated in a completely enclosed indoor factory, so there is no risk of contamination by pesticides from outside.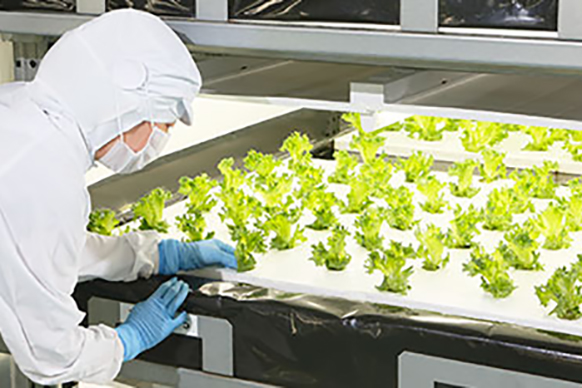 Seamless Support for Plant Factory Construction
Taikisha Provides Consistent Full Support for Plant Factories, from Business Planning, Construction to After-Service Maintenance.

Taikisha provides consistent support for plant factory construction, from consultation of business planning, construction, to after-service maintenance like cultivation support. With our experience and expertise, we can meet a variety of requests from our customers, for example, using existing factory,warehouse or building for the plant factory.

Global Operation

Taikisha has a worldwide network spreading about 20 countries and regions. You can operate the plant factories in many areas of the world utilizing our network.

Learn more