Corporate History
History of Taikisha
Helps build the foundation of modern Japan
19131948
Kenzaisha Ltd. Founded
Taikisha was founded in 1913 as Kenzaisha Ltd., an affiliated company of L. Leybold Co., an importer of German machinery. At the time of its establishment, Kenzaisha's principal business activities comprised sales and installation services for building materials imported from Germany. The supply of equipment such as steam heating boilers, however, also required construction work, and consequently, the Company invited a heating work engineer from Germany, seeking to introduce the latest heating technologies. The Tokio Marine and Fire Insurance Building, whose construction was completed in Marunouchi, Tokyo in 1918, was Japan's first modern office building. Installing the hot water forced circulation system and wastewater treatment tank for this big building enabled Kenzaisha to establish a solid position in the building equipment industry.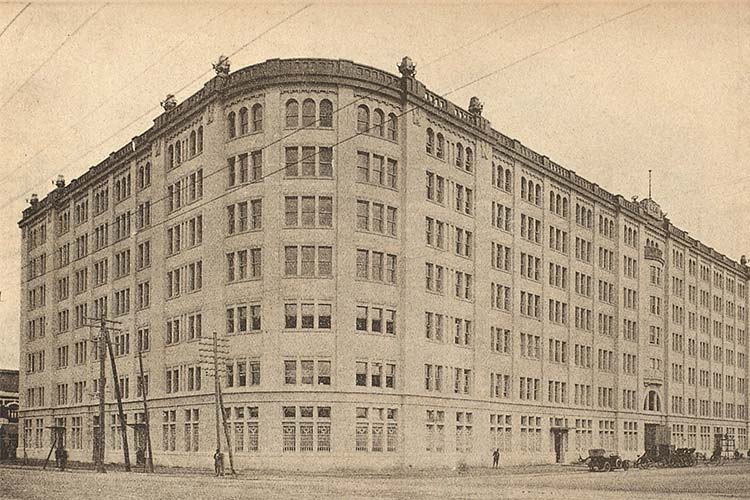 Tokio Marine and Fire Insurance Building
Growing in the HVAC Industry and Constructing Automobile Manufacturing Equipment
Beginning in the 1930s, with the development of the Japanese spinning mill industry, there was a sharp increase in the Company's installation of air-conditioning systems essential to the fine spinning process. Under such circumstances, after the Company received in 1933 an order for air-conditioning equipment for a spinning mill plant at the Mikame Plant of Ohmi Hanpu Company, Kenzaisha rapidly expanded its operations in this area. In 1935, Kenzaisha added to its technological base by introducing a steam-jet refrigeration system made in the U.S., subsequently manufacturing its own version of it in Japan. The steam-jet refrigeration system was highly recognized for its low noise and failure frequency levels, non-use of ammonia and other coolants thought to be dangerous and low initial cost and running costs, and, in turn, had a major effect on the Japanese air-conditioning industry.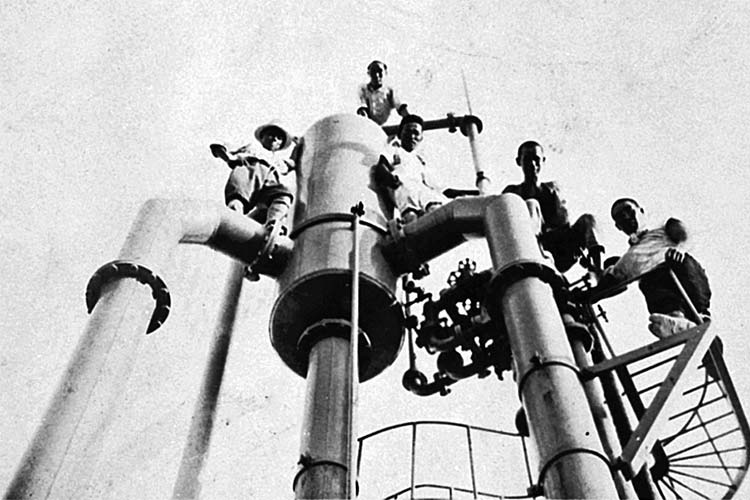 Steam jet units under construction at the Kinka Keito Company Tsu Plant
Meanwhile, Kenzaisha began to also provide work services for automobile manufacturing equipment. In 1936, it received an order for the delivery of a steam heater for the body enamel drying room at Ford Japan's Yokohama Plant and for the installation of spray booth ventilation ducts there. Moreover, Kenzaisha received an order for a truck body drying room at the first automobile assembly plant (Koromo-cho, Aichi) of Toyota Automatic Loom Works, Ltd. whose construction was completed in 1938 (the automobile section is the mother organization for what is now known as Toyota Motor Corporation).
Expansion of business fields during the Period of Rapid Economic Growth
19491972
Developing along with Growth Industries
Japan's manufacturing industries were decimated during World War II, but from about 1949, they began to recover at a rapid pace, particularly the textile industry. Kenzaisha, which had gained a reputation for installing high-quality, low-cost HVAC systems in textile plants, began to win air-conditioning system orders for new plants, expanding its business in this field. By 1952, it had received orders for major construction projects from 8 of the 10 largest textile companies in Japan.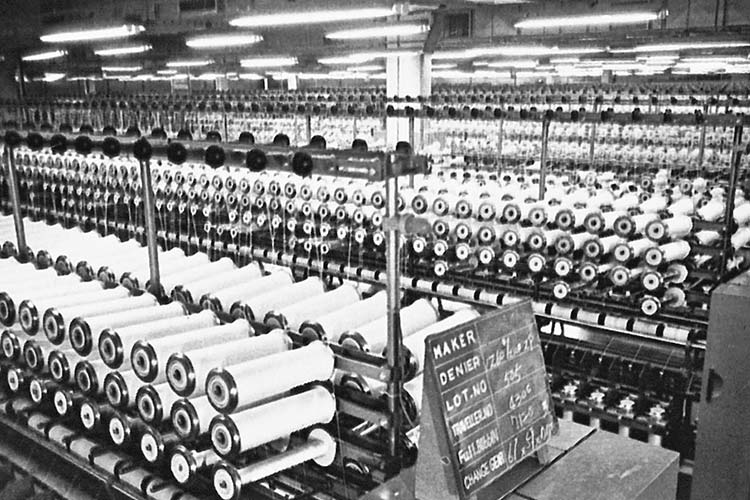 Toyo Nylon Plant in South Korea
From about 1955, the use of petroleum-based synthetic fibers such as nylon and polyester became increasingly common. The production process at synthetic fiber plants required precise control of air flow, temperature, humidity, pressure and other elements, which necessitated much more sophisticated HVAC systems than those used in the past in cotton and rayon spinning. With its experience in textile HVAC systems and its pursuit of the latest technology, Kenzaisha by 1960 had secured a major share of the market for synthetic fiber plant HVAC systems. From this time onward, the Company became closely identified with industrial HVAC systems
In the years after World War II, Japan experienced a flurry of plant constructions for the textile industry and for various other industries such as the camera, film, pharmaceutical and electronics industries. At these plants, HVAC systems that could maintain a high level of air purity were needed to prevent damage to products. In response to such need, the Company strove to achieve higher technological expertise, delivering precision HVAC and cleanroom systems.
As the Japanese economy continued to grow at a high pace in the 1960s, HVAC systems for buildings became increasingly common in the country with customers demanding higher and higher quality air-conditioning systems. Around the time of the 1964 Summer Olympics in Tokyo and Expo '70 in Osaka, there was a tremendous boost in the construction of high-rise tower buildings and modern hotels, and the Company carried out many projects.
Commenced Automobile Paint Finishing System Business
The Company began making a full-scale entry into the automobile paint finishing system business in 1953 after receiving an order for construction of a spray booth and drying oven for the Isuzu Motors Ltd. Omori Plant. In 1959, amid the advent of motorization in Japan, it received a turn-key order for the automobile painting line of Toyo Kogyo Co., Ltd. (now Mazda Motor Corporation), which was the first-ever order of its kind. This was a major project and both companies bet their future on its success. In August 1963, Kenzaisha received a contract from Nissan Motor Chile Ltda. for the construction of its new automobile painting line. These were the first overseas paint finishing system projects undertaken by Kenzaisha, heralding its entry into the overseas painting system business.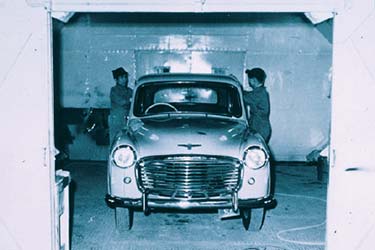 Spray booth in the Isuzu Motors Ltd. Omori Plant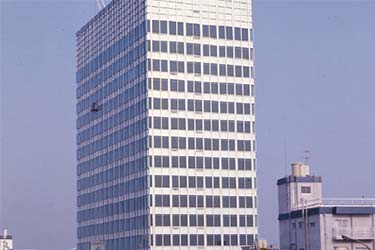 Tokyo Nissan Auto Sales Building
(now Roppongi Hills North Tower)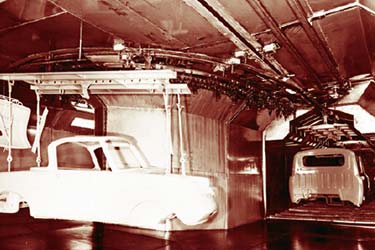 Drying oven for the R360 coupe at the Toyo Kogyo Co., Ltd. F Plant
Global business development
19731991
Company Name Changed to Taikisha Ltd.
In 1973, on the occasion of its 60th anniversary, Kenzaisha changed its corporate name to Taikisha Ltd., marking a new start for itself as Japan began to face environmental pollution problems such as air pollution. The corporate name Taikisha includes the following idea: It is necessary to make appeals concerning the atmosphere (taiki) and convey the Company's unceasing and proactive stance on making the air clean again.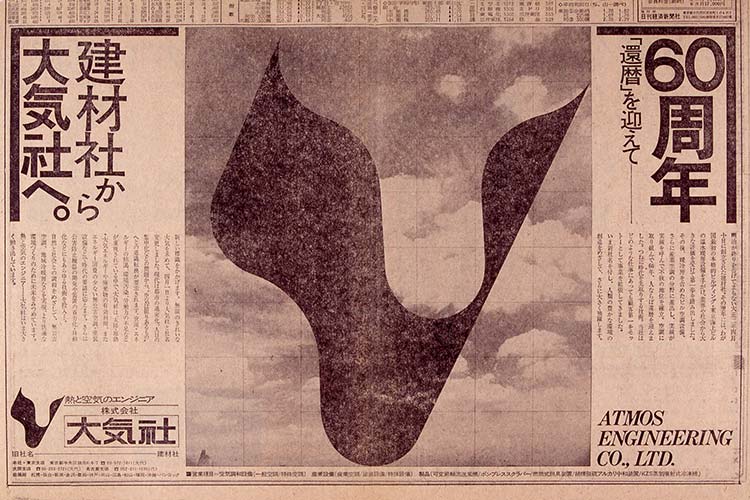 Newspaper advertisement upon the name change of the Company
Received Orders for Construction of Painting Plants from the United States' Big Three Automobile Manufacturers
The same year saw the Yom Kippur War break out, giving rise to the first oil crisis resulting from crude oil supply reductions, following which the second oil crisis occurred in 1979. These developments made Japanese industries as a whole recognize "energy efficiency" as their common challenge. Following the oil crises, trade friction between Japan and the U.S. developed largely as a result of the increase in sales in the U.S. of high fuel efficiency Japanese cars. In the early 1980s, in order to avoid such friction, Japanese auto manufacturers began to accelerate their moves to establish operations in the U.S. Under these circumstances, Taikisha received orders for the first phase of plant construction work for Honda of America Manufacturing and a robot painting system for Nissan Motor Manufacturing Corporation USA. In June 1981, Taikisha established its locally incorporated subsidiary in the U.S. This was in response to numerous Japanese auto manufacturers setting up operations in North America. Subsequently Taikisha also received painting plant construction work orders from the big three U.S. auto manufacturers.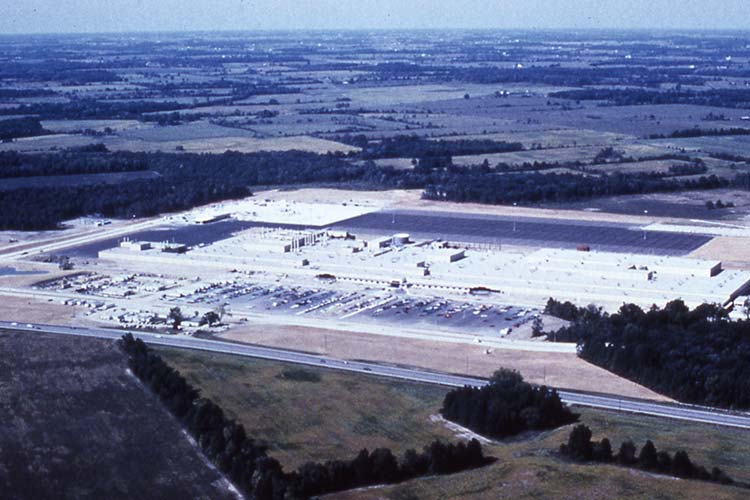 Honda of America Mfg. Marysville Plant
Received Orders for Construction of Plants and Hospitals in the Middle East
From the advent of the 1973 oil crisis onward, in Japan there were many cases of large public sector projects being postponed or frozen. An adverse time for the construction sector ensued. However, at that time, infrastructure projects flourished in the Middle East due to the massive inflow of oil dollars, and Taikisha received equipment work orders for plants and hospitals in Iran, Iraq and the United Arab Emirates.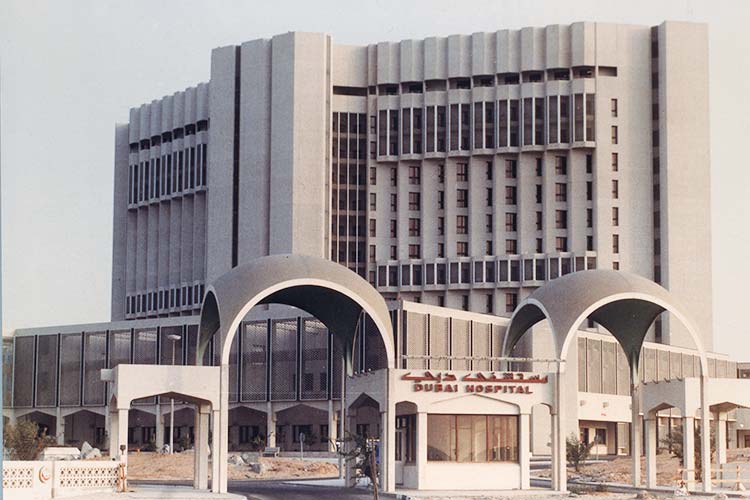 New Dubai Hospital in the United Arab Emirates
Steadily Established Subsidiaries Worldwide
After the 1985 Plaza Accord was adopted, the yen rapidly increased in value. In response, Japanese manufacturing companies continuously shifted their plants to overseas locations. The Company aligned itself with these customer developments and established a business presence in Thailand, and then steadily established new offices in Singapore, Malaysia, Taiwan, Indonesia, the Philippines, China, Vietnam and other countries.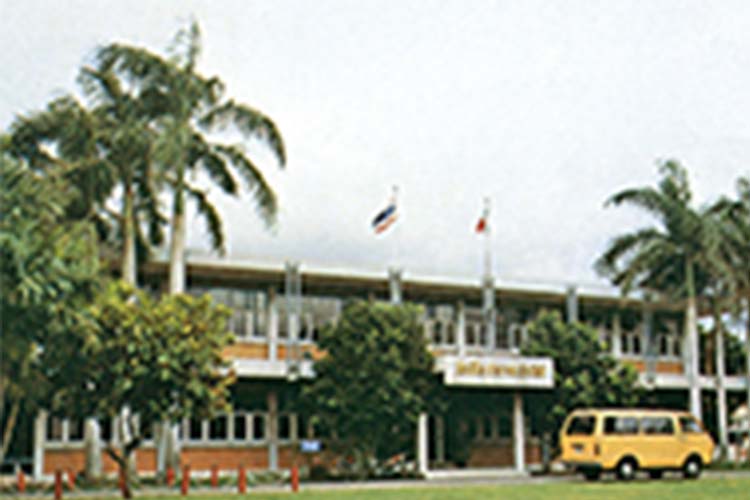 Thai Teijin Textiles
Enhancement of the Group's comprehensive capability
19922009
Expanding Overseas HVAC Business
The 1990s was an era characterized by a rapid spread of information technology as consumers began to widely use the Internet and mobile phones. The Company, with its leading-edge know-how in cleanroom design and construction work services, participated in projects to construct manufacturing plants for semiconductors, hard disks and capacitors, a set of devices serving as the backbone of IT hardware. This allowed the Company to gain higher recognition in the electronics industry.
In the building air-conditioning system sector in Japan, construction of telecom-related facilities and redevelopment and construction of high-rise buildings increased in the 1990s, mainly in urban areas. While participating in many of these types of projects, the Company used the global network that it built to aggressively capture overseas construction demand as well. It also involved itself in air-conditioning system projects for buildings that became landmarks such as the Petronas Twin Tower in Malaysia (1994) the Suvarnabhumi International Airport in Thailand (2002) and Gardens by the Bay in Singapore (2008).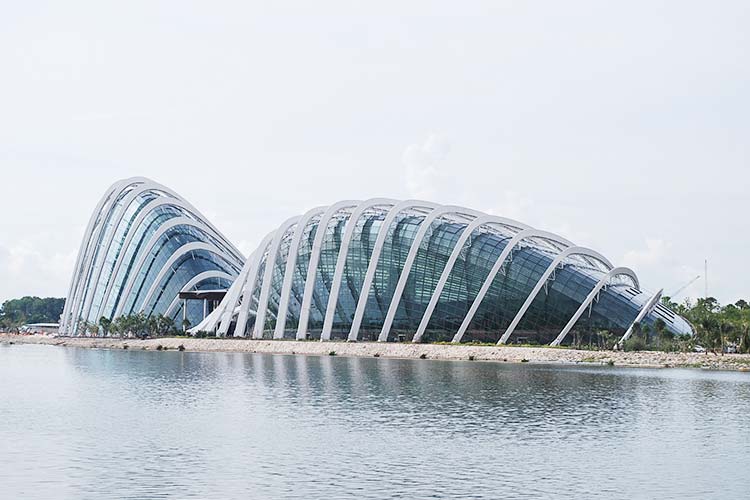 Gardens by the Bay (Singapore)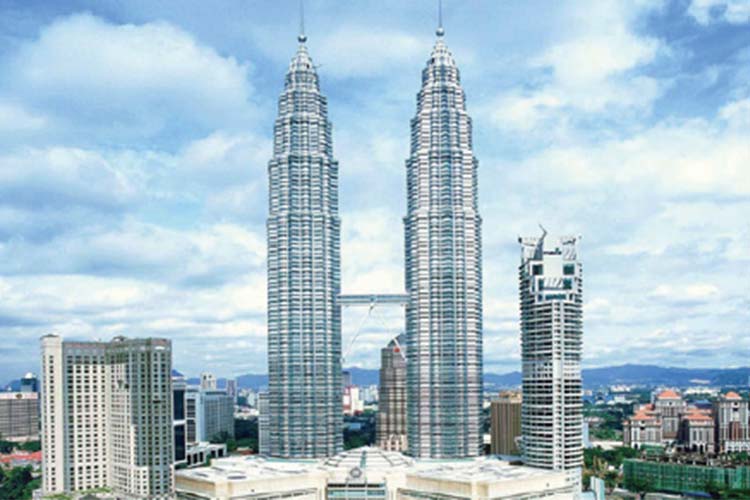 Petronas Twin Towers (Malaysia)
Marking an Entry into the Conveyor Business
Meanwhile, circumstances in the automobile industry underwent major changes. With emerging countries taking on an increasingly higher profile in the international market, severe competition among automobile manufacturers from around the world came to be played out within the industry mainly in China and India. In these regions, the Company received orders for paint finishing system construction from leading American, South Korean, and European makers. In addition, it won orders from local manufacturers as its customer base expanded.
As American and European competitors in the industry began accelerating the development of their business in Asia, leading to more intense market competition, and the possession of technologies that supported full turn-key contracts became crucial to successful acquisition of orders. In response to these circumstances, the Company took measures to reinforce the automation sector (robots, spray guns, bells), conveyor systems, electrical controls, paint circulation, and other related technologies. Taikisha established a conveyor system design company in Shanghai, China in 2002, and a conveyor manufacturing company in Tianjin, China in 2004, marking an entry into the conveyor business. Over the next decade, the conveyor system business expanded from China and established a supply record with overseas projects as well. Moreover, a new research and development center was established in Tianjin, China in 2010.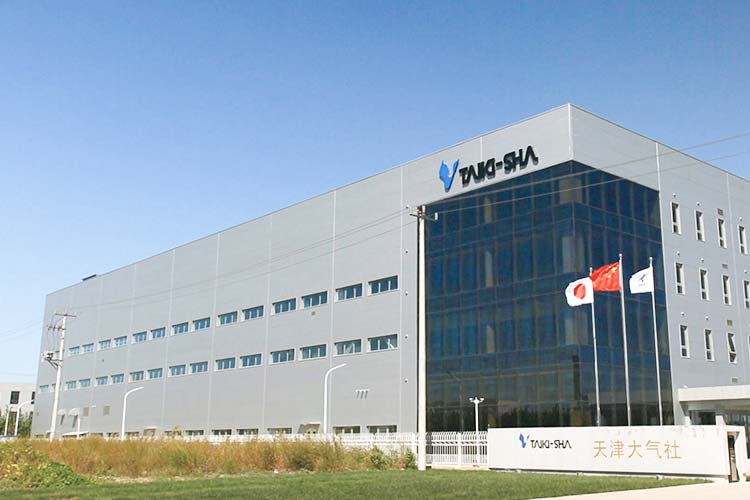 Tianjin Taikisha Paint Finishing System Ltd. (China)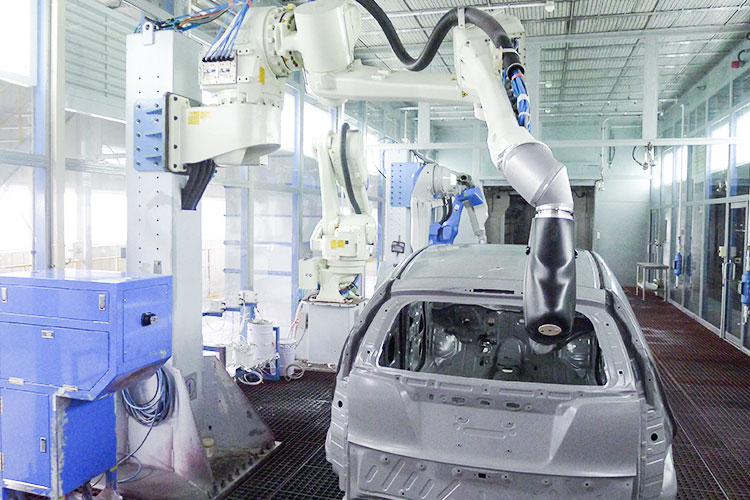 Painting robot at TTP lab (Tianjin China)
Looking further into the future
20102014
Active Global Expansion
In the fiscal year 2011 (April 2011 to March 2012), economic activity in the Japanese market stagnated as a result of the effects from the Great East Japan Earthquake, but orders continued to increase in overseas markets, particularly in emerging market countries. As a result of the Taikisha Group's active international business development leveraging its global network, one of its strengths, consolidated overseas sales reached 51.3% of the total. This was the first time in the Company's history that overseas sales accounted for more than half of the total.
The pace of globalization continues to accelerate. Manufacturing companies from around the world are expanding their investments in so-called new emerging market countries such as Cambodia and Myanmar because of their abundant workforces and natural resources. In response to these developments, Taikisha established new bases in Cambodia in 2011 and in Myanmar in 2013. We seek to conduct activities with the aim of creating local ties while collaborating with other Taikisha Group companies in neighboring countries such as Vietnam, Singapore, Malaysia and India.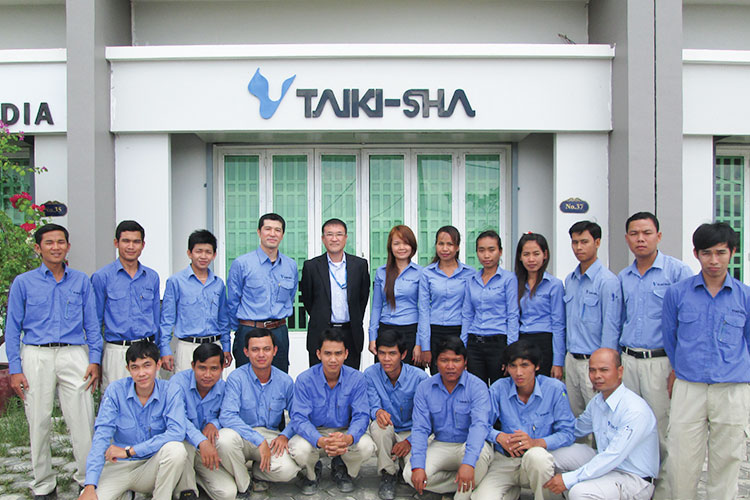 Taikisha (Cambodia) Co., Ltd. opening staff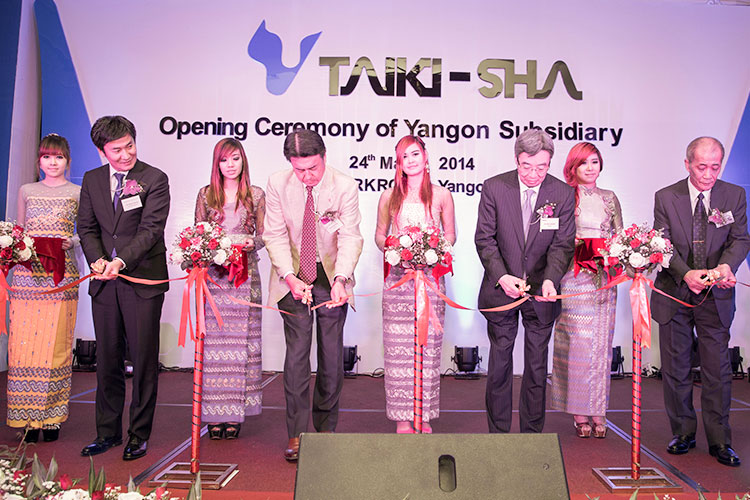 Taikisha Myanmar Co., Ltd. Opening Ceremony
Enhancing Further Global Network
In June of 2014, the Company entered into a business and capital alliance with Encore Automation LLC, an American robot application system engineering company, expanded its paint system robot application business in the North American market, and bolstered its after-sales service organization.In December of 2019, Taikisha established Taikisha Lao Co.,Ltd, for enhancing the South East Asian business.In 2021, Taikisha expanted the business fields of Indian market, by the investment toward Nicomac Clean Rooms Far East LLP.
One hundred years have passed since the founders of Taikisha started out in business in 1913 with ardent ambition in their hearts. Taikisha has grown to become a major corporate group with about 5,000 employees. We seek to create a pleasant living environment for the people of the world, and we are moving into our second century of service to industry worldwide while preserving our international nature, carefully nurtured ever since our foundation, and strict adherence to our "Customers First" spirit.