Efforts for Realizing a Low Carbon Society
Green Technology System Division
Taikisha is helping to reduce GHG emissions at the operation phase of the air-conditioning and sanitary facilities it provides to clients.
Eco-Friendly Design
Energy-saving Proposal Activities
The Green Technology System Business, as part of promoting ecofriendly designs, makes proposals for improving the energy efficiency (reducing environmental impacts) of facilities owned by clients. In energy-saving proposal activities, the Division repeats the cycle of energy-saving diagnosis to grasp the current status, make detailed proposals based on clients' future visions, design and construction, and verify the effects in the operation phase.
To contribute to the target reduction in energy originated CO2 emissions by FY2030 (25.0% reduction compared with FY2013) under the Plan for Global Warming Countermeasures, a Cabinet decision made in May 2016, Taikisha has developed a proprietary simulation-based Energy Plant Optimal Control System, which maximizes the amount of energy saved by heat source systems through optimal operation control according to external conditions that change from hour to hour and thus helps reduce CO2 emissions and running costs.
Development of Energy-saving Technologies
Taikisha is also working on the development of energy-saving technologies of clean room systems that control the circulating air volume by tracking the operation status of production equipment, staffing and indoor environment as well as room pressure control systems, by incorporating the technological progress of AI and IoT in air-conditioning systems to adapt to smart plants and buildings.
Taikisha defines the rate of CO2 emissions reduced from facilities owned by clients due to Taikisha's proposals as the rate of CO2 reductions. The transition in the rate of CO2 reductions for the past 10 years is shown in Figure 1. In FY2019, Taikisha conducted activities by setting a target for the rate of CO2 reductions of a weighted average of 20% or higher in in-house design projects, and Taikisha exceeded the target at 24.3%. The number of proposals and the proposed amount of CO2 emission reductions are classified by commercial client (for offices and hospitals, etc.) and industrial client (plants, etc.) and their transitions are shown in Figure 2. The amount of proposed CO2 emission reductions that corresponds to Category 11 under Scope 3 was about 370,000 t-CO2 (the effect of 15 years of operation).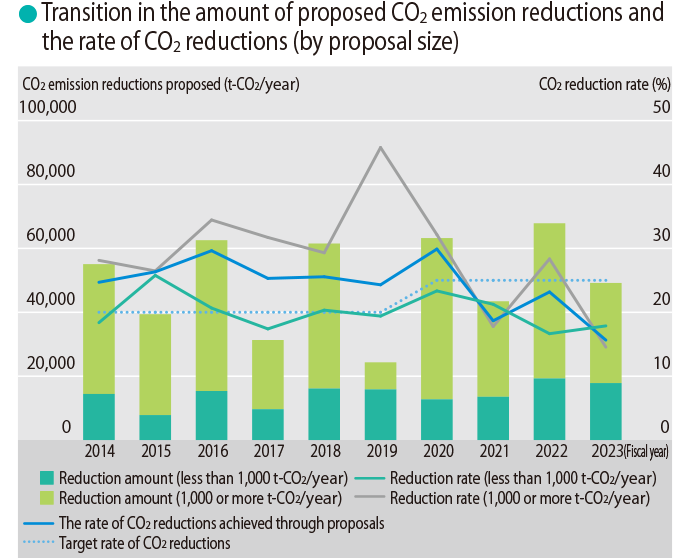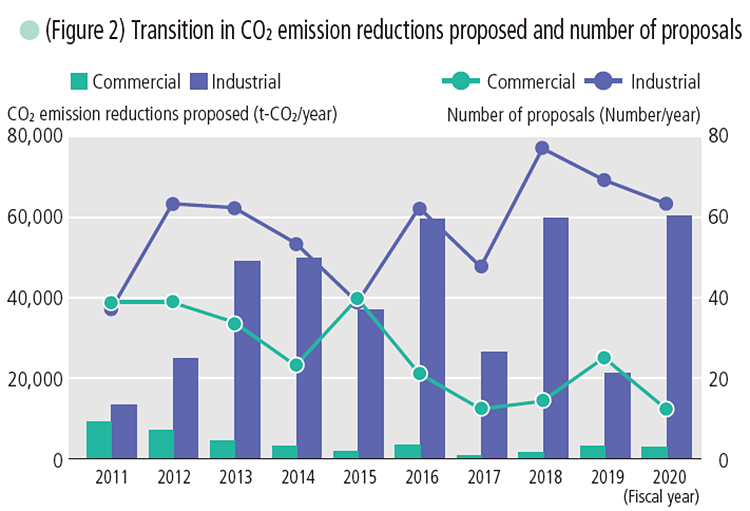 Formulation of New Medium-Term Plan for 2020 and Beyond
As its new medium-term plan's target for 2020 and subsequent years, Taikisha will reduce its CO2 emission factor in designing and construction by 25% by 2030 relative to the 2013 emissions level.
In order to achieve this target under the medium-term plan, Taikisha will aim to reduce its CO2 emission factor by 10% in proposals for new construction/full renovation of facilities and by 25% in proposals for partial renovation of facilities for in-house design projects by utilizing energy-saving technologies in its current portfolio.
Furthermore, Taikisha will seek to achieve the FY2030 target by utilizing energy-saving technologies such as production device tracking control currently under development.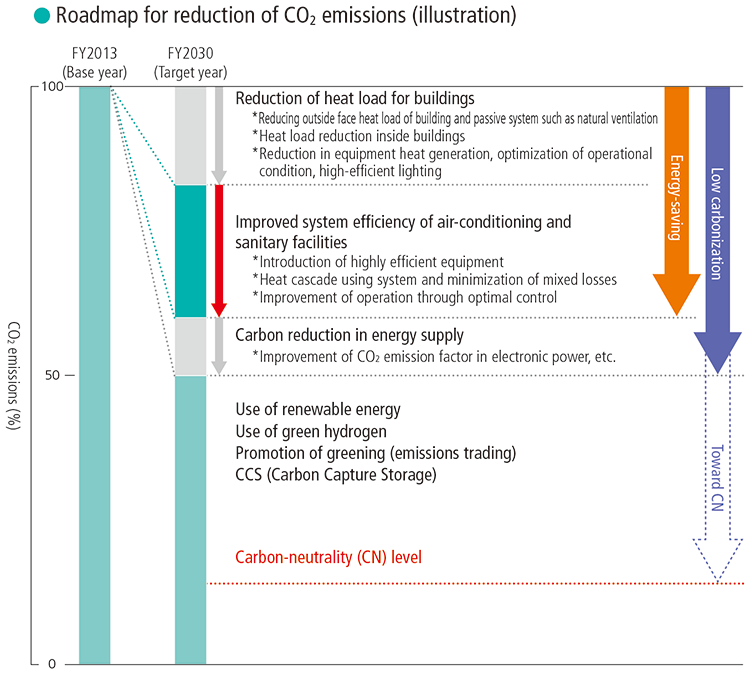 Paint Finishing System Division
Taikisha is helping to reduce GHG emissions in the paint finishing process for automobiles, etc.
Activities to Reduce CO2 Emissions from the Paint Finishing Process
In order to help reduce the environmental impact of the paint finishing process, in which energy usage is particularly high in the automobile manufacturing process, the Paint Finishing System Business has proposed plans to reduce CO2 emissions from paint facilities in the automobile manufacturing process.
Since 2000, Taikisha has been examining proposals in each fiscal year to meet the medium-term target of 70 kg-CO2/unit in 2020 by calculating the reduction in CO2 emissions using the energy estimation model for automobile paint finishing lines.
CO2 emissions, which were 160.1 kg-CO2/unit in 2005, decreased to 100 kg-CO2/unit, which is the first medium-term target, by 2012. By 2015, Taikisha reduced CO2 emissions further to 80 kg-CO2/unit, which is the second medium-term target, by promoting facility technologies such as dry filtration booths (dry booths that use pre-coating materials).
Currently, Taikisha is looking into technological proposals aimed at fulfilling the final medium-term target, i.e., the third final target of 70 kg-CO2/unit to be achieved by 2020. In FY2019, Taikisha achieved 72.2 kg-CO2/unit based on proposals of such technologies as the new dry scrubber (a dry booth using a cardboard filter).

Achievement of Third Medium-Term Target in 2020 and Formulation of New Medium-Term Plan Going Forward
Taikisha is examining technologies to reduce CO2 emissions with an eye on achieving the target of 70 kg-CO2/unit in 2020, which is the final fiscal year for the medium-term plan proposed continually since 2010.
For the current fiscal year, Taikisha will also set a new mediumterm CO2 reduction target for automobile painting processes in view of long-term low-carbon targets of automakers who form our clientele, considering the current status of greenhouse gas emissions and the latest environmental technologies, following the achievement of such medium-term target for 2020.
Specifically, Taikisha will promote the introduction of renewable energy (solar thermal energy, etc.), consider waste heat recovery from lower temperature sources, and technology development such as downsizing paint finishing systems and enabling lower baking temperatures in drying ovens. Taikisha will consider adopting next-generation energy sources including hydrogen by 2020.
Taikisha aims to help protect the global environment by implementing these technology proposals for paint finishing systems in cooperation with automobile manufacturers and other related companies.