Basic Policy
Taikisha has upheld the corporate philosophy of "Establish a company which can continuously grow and contribute to society." Guided by this philosophy, Taikisha is working to reduce material risks and minimize risks before they materialize, in order to continue with businesses and achieve their sustainable development. From the Taikisha Group's integrated perspective, the Risk Management Committee performs such tasks as assessing the risk level (degree of importance) of each risk, selecting risks that need to be addressed, and formulating a policy to reduce risks. In addition, to prepare for the occurrence of a crisis such as a disaster, an accident or an incident, Taikisha has established a crisis management system and formulated a Business Continuity Plan (BCP).
Risk Management System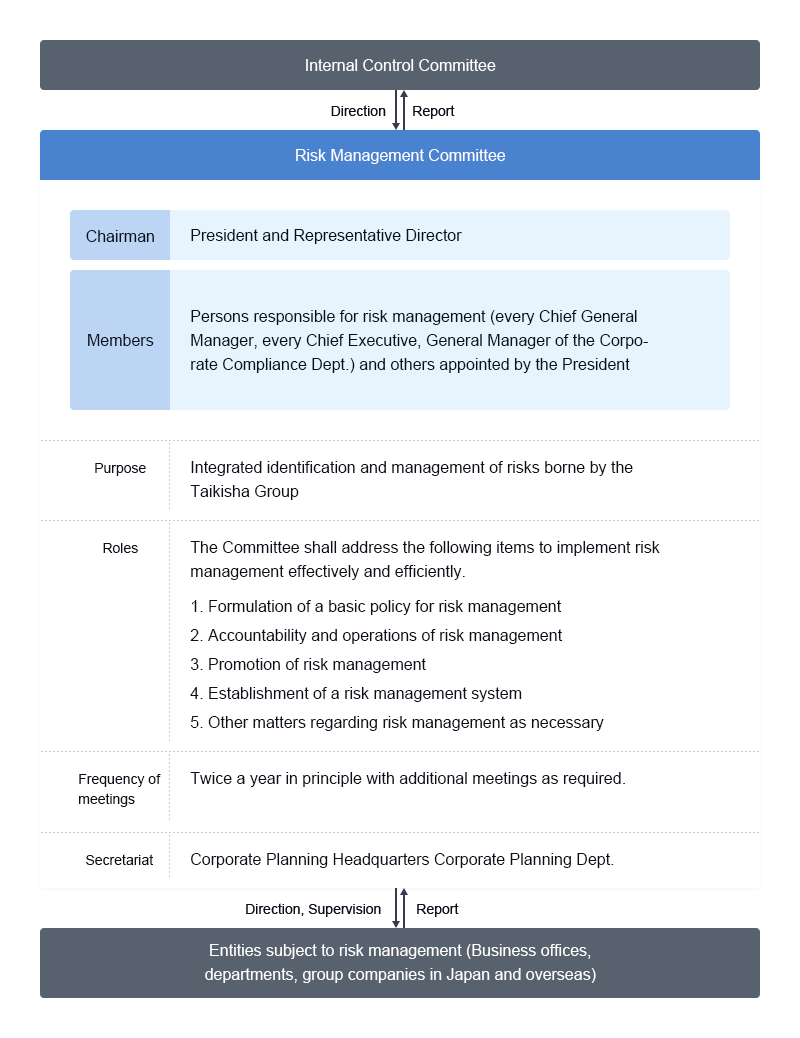 Taikisha, in accordance with the Risk Management Rules that have been in place, has established the Risk Management Committee to implement effective, efficient and integrated risk management in the Taikisha Group. The Risk Management Committee is chaired by the President and Representative Director and meets twice a year and as required. The Committee establishes basic policies, responsibility systems, operations, and other necessary measures for group-wide risk management, and keeps all persons involved well informed about the establishment and implementation of policies.
Regarding risks associated with operations assigned to each department, such as quality control, safety control, compliance, and finance, each responsible department extracts risks, selects risks that need to be addressed on a priority basis after determining the risk level (degree of importance) in consideration of "impact on management" and "frequency of occurrence," and then develops priority management policies and goals to be reported to the Risk Management Committee. The Risk Management Committee discusses the risk level assessment and priority management policies and goals of each risk from a group-wide and integrated perspective, and formulates the basic policy. Each responsible department monitors the status of execution of action plans and reports the results to the Risk Management Committee. The Chairman of the Risk Management Committee puts together the status of group-wide risk management and reports it to the Board of Directors twice a year.
During FY2020, the Risk Management Committee formulated a policy and visualized the changes in significance of impact from each risk and the level of its management, thereby enabling more detailed assessment. Additionally, based on the recognition that the COVID-19 pandemic that has been continuing since FY2019 is one of the most significant risks having a major impact on management, the Committee launched a task force and has been tackling COVID-19 on a group-wide scale.
Major Risks and Remedial Measures
Risk of fluctuations in privatesector capital investment
Content

Decrease in orders received due to deterioration of environment for receiving orders, fall in capital investment by clients and change in investment fields

Remedial Policy and Measures

Broaden the client base by enhancing sales system
Enhance competitiveness in receiving orders by lowering costs
Tap new markets and new clients in painting field based on automation technology
Risk related to COVID-19 pandemic
Content

Health hazard to employees, delays in procurement of construction materials, suspension of construction process, etc. due to COVID-19 pandemic

Remedial Policy and Measures

Group-wide crisis management response by Crisis Task Force headed by President
Thoroughly implement measures for health & safety management and infection prevention at construction sites
Promote staggered working hours and telecommuting
Risk related to management and control of overseas businesses and overseas affiliates
Content

Deterioration in business performance due to overseas affiliates' failure to fulfill business plan attributable to unexpected amendment of local laws and regulations, political instability, etc.

Remedial Policy and Measures

Proactively collect information on political, economic, legal and regulatory information at overseas sites
Reduce risks through hedging based on forward exchange contracts, etc.
Make overseas affiliates' governance system more sophisticated
Risk concerning human resources
Content

Delays in engineers' growth, shortage of skilled and experienced engineers

Remedial Policy and Measures

Improve basic technological capabilities through training and promote on-site practical education
Create an appealing workplace and secure human resources by conducting work style reform and taking measures against long working hours
Introduce global human resource system, secure and train key human resources and promote localization at overseas sites
Risk concerning legal compliance
Content

Violation of Antimonopoly Act, violation of Construction Business Act, violation of Labor Standards Act

Remedial Policy and Measures

Conduct compliance education programs on an ongoing basis as well as follow-up activities
Develop a culture and mechanism that prevent rules from being violated
Risk of serious accident or defects, etc. due to poor quality
Content

Serious accident in construction stage, material defects due to poor quality, etc.

Remedial Policy and Measures

Enhance safety management system
Take out various non-life insurance, etc. to prepare against occurrence of accidents and poor quality
Crisis Management System
Taikisha has established the Basic Policy for Crisis Management and built the crisis management system to prepare for the occurrence of unforeseen disasters, accidents and incidents in Japan and overseas.
In the event of a crisis, Taikisha classifies crises into three response levels depending on the severity of impact on human lives and business continuity, and implement crisis response measures according to each response level. The Chief Executive of the Administrative Management Headquarters assumes the position of Chairman of the Crisis Management Committee. If it is decided that a particularly serious crisis has occurred, the President and Representative Director takes command as the Head of the Crisis Task Force.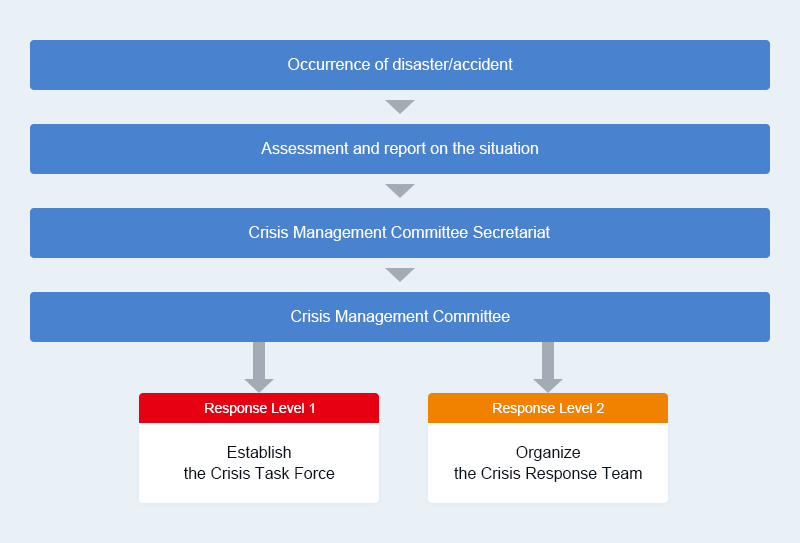 Diagram of Crisis Management System
Overseas Crisis Management System
The Taikisha Group's business fields are continuing to expand globally. For smooth business activities, Taikisha needs to implement crisis management measures overseas to be able to address diverse risks.
From the perspective of prioritizing human lives, for Taikisha employees deployed overseas and those on overseas business travel to be able to engage in business activities without concern, Taikisha has formulated the "Overseas Security Response Manual" to help employees prevent and avoid risks of crimes and terrorism and the "Overseas Crisis Management Guidelines (main vol.)," which stipulates the actions to be taken by Taikisha's headquarters and overseas affiliates in the event of an occurrence of a crisis. Furthermore, to help each employee with his/her own safety management before overseas business travel, an e-learning course is provided to prepare for the trip.
Concerning business travel to a high-risk region, Taikisha investigates and obtains the latest information on the current situation of the country beforehand and takes safety measures such as ensuring safe transportation method, route and accommodation facilities before determining whether to permit the business travel. To eliminate concern employees might have regarding their situation during and even after overseas travel and so that they can focus on business activities, Taikisha has a contract with a company that provides the referral of a hospital in case of an emergency such as illness or injury overseas, arranges transportation to the hospital and medical translators, guarantees payments of healthcare expenses, etc., and coordinates the transport of the patient on his/her behalf or his/her family's behalf.
Business Continuity Plan (BCP)
To prepare against the possibility of a crisis occurring, Taikisha has formulated a business continuity plan (BCP) for employees to restore operations promptly.
The Crisis Management Manual provides procedures for dealing with crisis situations, centering on large-scale earthquakes, by placing the highest priority on protecting the lives of its employees and their families. At business offices, Taikisha periodically conducts training, such as training on wireless phone communication, taking inventories and checking expiration dates on emergency food stocks. In addition, Taikisha carries out training on how to handle the safety confirmation system. To ensure the safety of employees, Taikisha has organized a company-wide self-defense firefighter team and conducts training activities. In addition to continually conducting evacuation drills and training sessions provided by the self-defense firefighter team, Taikisha holds training sessions on AED and first-aid rescue to train employees so that they can respond to emergencies not only inside but also outside the company. Taikisha continually conducts activities to raise employees' awareness of disaster control measures, such as carrying out a questionnaire to grasp employees' commuting distances assuming disruption of public transportation in the event of a disaster.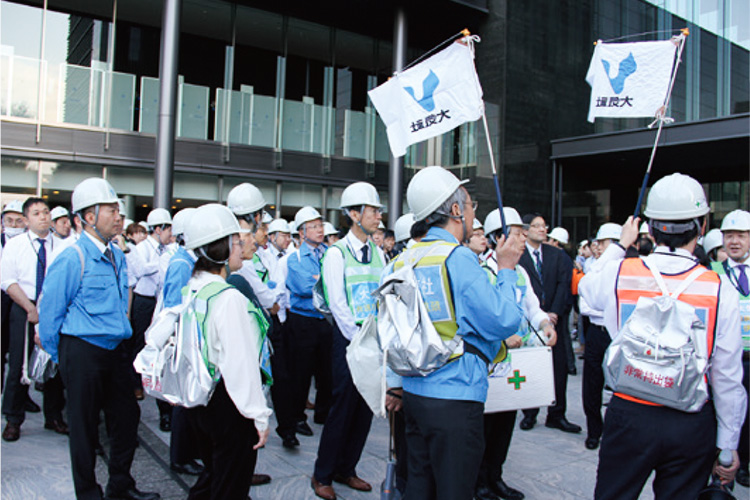 A disaster prevention drill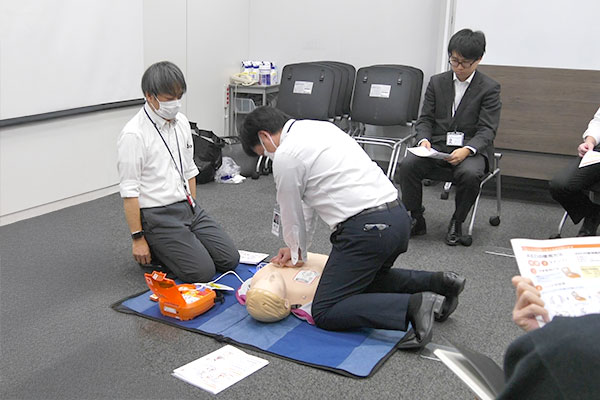 AED and first-aid rescue training session
Information Security
Taikisha has strengthened the Group's overall information management system to prevent the leakage of information of clients and business partners with whom Taikisha has business contact, as well as personal information of employees and others.
Taikisha has drawn up the Information Security Rules with detailed rules for all employees and persons with relevant responsibilities, such as persons in charge of IT system/facility development, and rules based on the privacy policy. Taikisha also distributed the Information Security Guidebook that shows concrete information security measures. Taikisha has thus been working to raise the awareness of information security among all officers and employees.
Measures
Ensuring thorough compliance with rules and regulations

Formation of the Information Security Rules
Creation of the Information Security Guidebook
Provision of e-learning programs to officers and employees

Measures to prevent information abuse

Encrypting information terminal data
Password authentication at startup of information terminals
ID and password management
Security measures for entrance and exit control
Automatic encryption of email attachments

Measures to protect against malware and other external threats

Anti-virus measures
Automatic application of patches
Website filtering
Measures to block spam
Monitoring of unauthorized communication on the company network