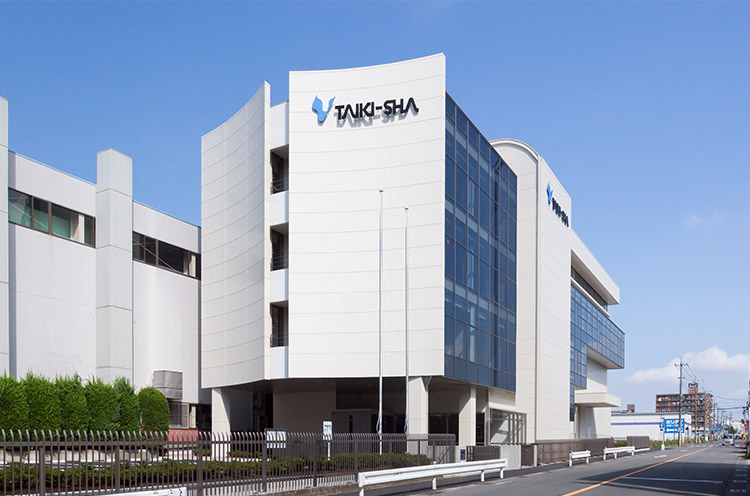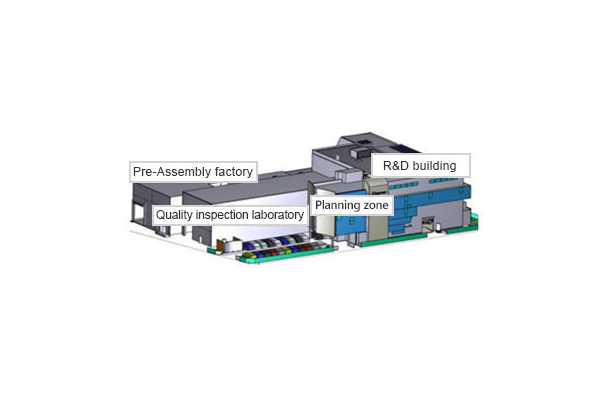 Research and Studies
The R&D building of the Technical Center conducts development of automotive paint finishing systems, as well as development of polishing and paint finishing systems for railway cars, aircraft, and small parts and components.
The quality inspection laboratory conducts paint tests and develops paint finishing systems by using paint robots and other equipment, and carries out painting simulations and tests under varying conditions using a wide variety of car bodies and paint materials. Paint booths, flash-off devices, and ovens make it possible to discover the optimal system for use in paint facilities. The Pre-Assembly factory carries out assembly of each part and performs test operation in order to check the functionality, operation, and quality before delivery.
Technologies with Achievements
The Technical Center facilities consist of the following 4 zones: Planning zone, R&D building, quality inspection laboratory, and Pre-Assembly factory.
Planning zone
In the Technical Center, we showcase new products and propose specifications of the required quality to satisfy customers by carrying out simulations of the motion of various automated paint finishing systems.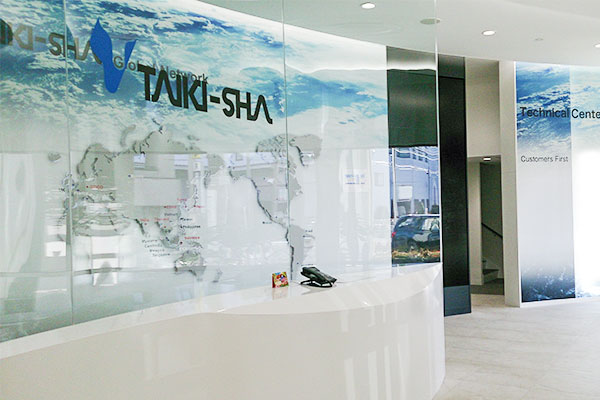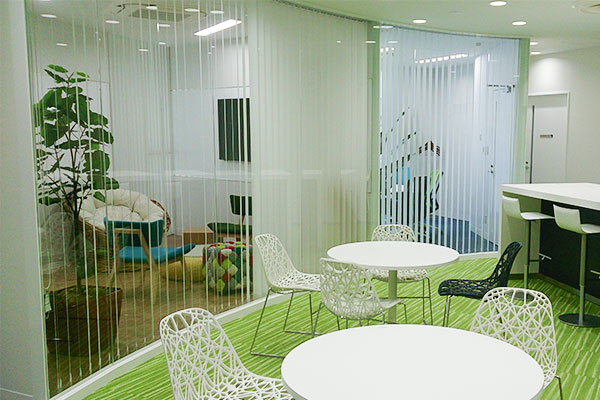 R&D building
Comprehensive test booth facilities
The facilities can perform comprehensive evaluation tests, such as smudge evaluation on paint systems caused by irregular behavior of paint mist in the paint booth and airflows during the painting process under varying air supply conditions, performance evaluation of exhaust gas treatment and dust removal systems, and maintainability of systems.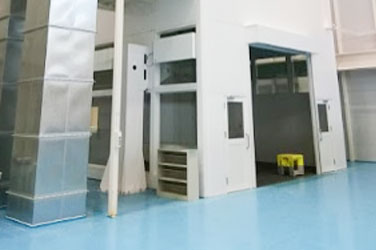 Automated polishing system
This automated polishing system is equipped with 3D vision system allowing automated polishing with optimal polishing conditions based on pre-polishing surface conditions.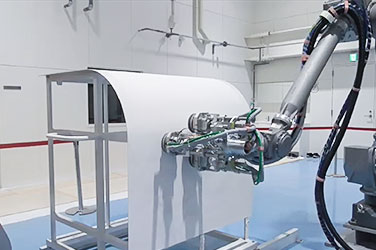 i-DOT system
This i-DOT system is a masking-free system that can paint letters and graphics through controlled, particle-by-particle discharge of paint particles.
Dispersion of paint mist does not occur during the drawing process, which eliminates the need for full-fledged paint booths and allows for a significant reduction of equipment cost.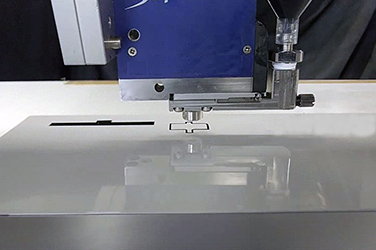 Automated polishing navigation system(Under Development)
This automated polishing navigation system supports the polishing process for railway cars and aircraft. The system makes it possible to polish arbitrary work piece surface automatically with high-precision through integrated control of AGV system, robot system, and polishing device control system based on the results of work piece shape recognition using 3D camera.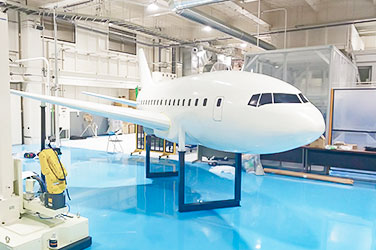 Pre-coating Type Dry Booth
The dry paint booth utilizes both pre-coated materials and filters. It is suitable for use in dry areas because it does not require water unlike conventional wet paint booths. Furthermore, it is more efficient in saving energy compared with wet paint booths during exhaust emission recycling in the booth.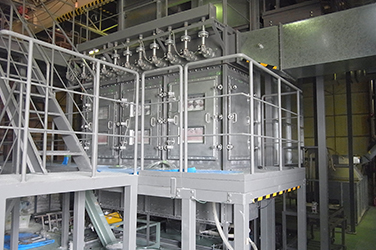 i-Navistar
This is an AI-IoT system developed exclusively for paint finishing plants to realize uninterrupted painting lines and paint finishing plants without defects in paint. The system can predict the timing of breakdown of equipment used in paint finishing systems and quickly identify the true causes of defects that have occurred, and present the details of such analysis. We plan to expand the system significantly by actively adopting new censors and digital devices going forward.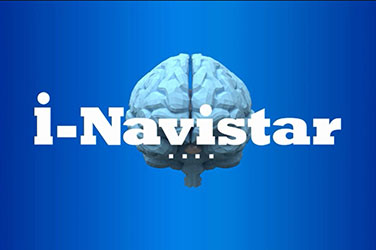 Analysis tool (1) : CFD technology
CFD technology has advanced greatly in recent years, allowing for calculation with very high accuracy of fluid flow, which is a non-linear phenomenon. In addition to conducting verification experiments, the Technical Center promotes efficiency of development by actively applying CFD technology.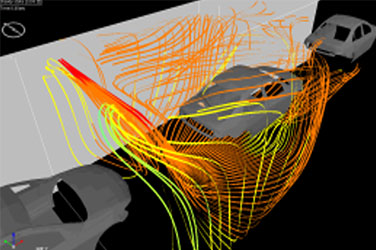 Analysis tool (2) : Particle behavior analysis technology
By analyzing the behavior of particles discharged from paint finishing systems, we visualize the operation conditions that achieve the best coating quality and work on modification of paint finishing systems to achieve further performance improvement.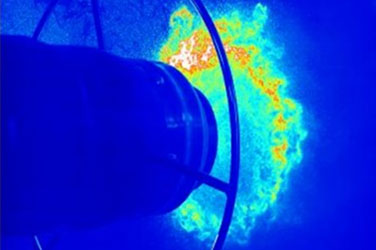 Analysis tool (3) : Airflow visualization technology
By visualizing the conditions of airflow and stirred-up dust in paint booths and paint drying furnaces, we detect possible points for improvement and conduct system modification and development toward further improving system quality.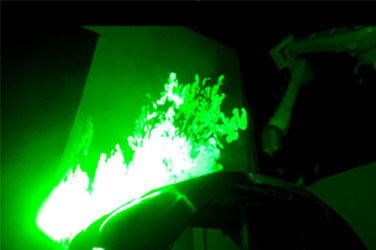 Quality inspection laboratory
Our paint quality has been verified in operations of actual robots.
Painting line
It is equipped with two simultaneously-operated paint booths, and this is the only place in Asia where a test using water-based paint and three types of wet paint on an actual product can be carried out. It is possible to adjust booth airflow rates and booth charge air temperatures in a broad range.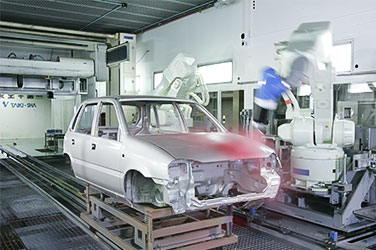 Painting robot
Paint finishing tests can be carried out using the same robot and applications as in the actual line. The same teaching program is applicable at actual lines after it is used in paint finishing tests.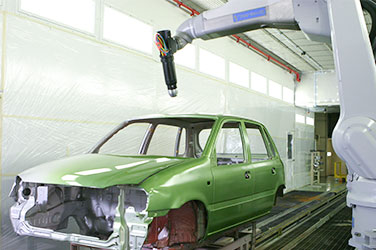 Oven
The flash-off system can perform tests on paint robots that use water-based paint and three types of wet paint under a variety of conditions. The oven can give a baking finish to actual products, and the paint finish quality can be checked on the actual product.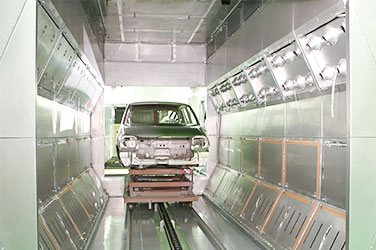 Measurement room
In the measurement room the paint finish quality is judged, data is organized, and then a report is created.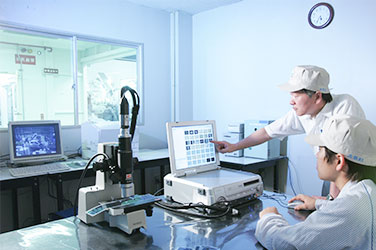 Pre-Assembly factory
Each part will be temporarily assembled in order to perform tests on functionality and operation, and to check quality before delivery.