Efforts for Sustainability
Taikisha is an engineering group that creates an optimal environment and space for people's lives and manufacturing based on its advanced technologies related to energy, air and water.
Backed by its history dating back more than 100 years since its foundation, Taikisha contributes to solving environmental issues faced by customers and handing down the rich global environment to future generations by capitalizing on its solution technologies centering on energy saving and environmental load reduction technologies, as well as its global networks around the world.
Taikisha's Materiality
Taikisha believes it is important to determine, assess and verify 'materiality' in terms of 'material matters' at the management level that should be addressed as a matter of priority, and run the PDCA cycle for CSR activities without fail.
Materiality Scheme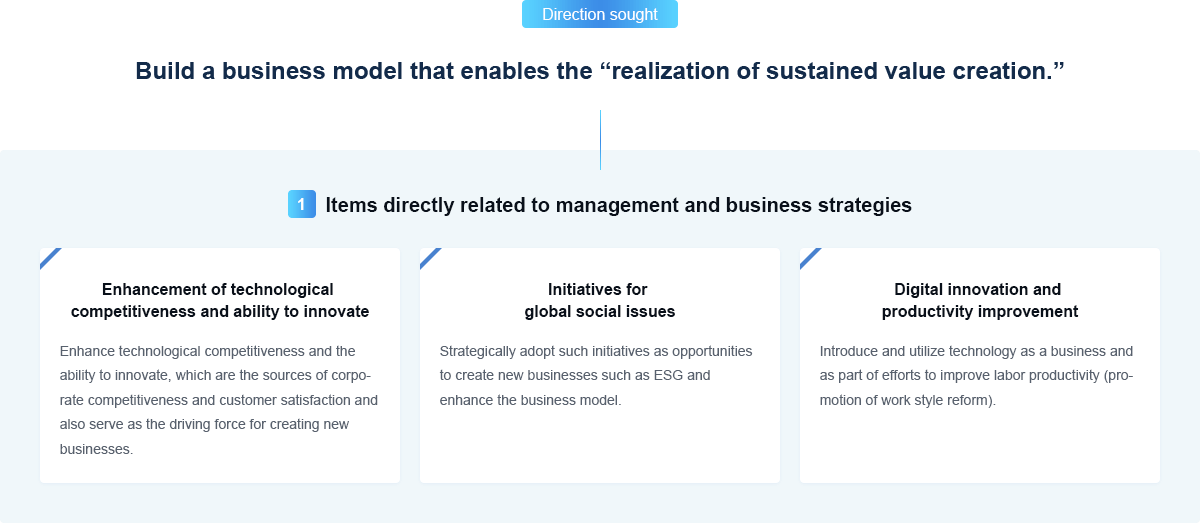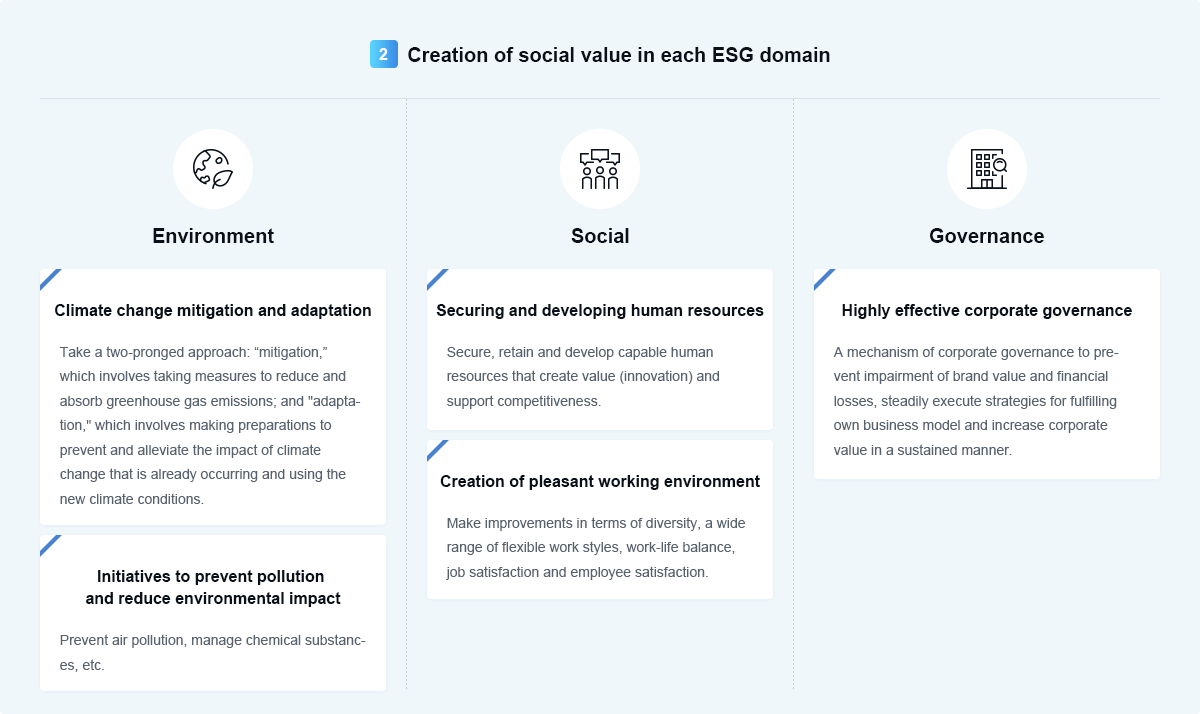 Contributing to the Environment through Business
Activities in the Field of Air-Conditioning System for Buildings and Factories
The Green Technology System Business, as part of promoting ecofriendly designs, makes proposals for improving the energy efficiency (reducing environmental impacts) of facilities owned by clients.
As its new medium-term plan's target for 2020 and subsequent years, Taikisha will reduce its CO2 emission factor in designing and construction by 25% by 2030 relative to the 2013 emissions level. In order to achieve this target under the medium-term plan, Taikisha will aim to reduce its CO2 emission factor by 10% in proposals for new construction/full renovation of facilities and by 25% in proposals for partial renovation of facilities for in-house design projects by utilizing energy-saving technologies in its current portfolio. Furthermore, Taikisha will seek to achieve the FY2030 target by utilizing energy-saving technologies such as production device tracking control currently under development.
Activities in the Field of Automobile Paint Finishing Systems
In order to help reduce the environmental impact of the paint finishing process, in which energy usage is particularly high in the automobile manufacturing process, the Paint Finishing System Business has proposed plans to reduce CO2 emissions from paint facilities in the automobile manufacturing process.
Taikisha is examining technologies to reduce CO2 emissions with an eye on achieving the target of 70 kg-CO2/unit in 2020, which is the final fiscal year for the medium-term plan proposed continually since 2010. Specifically, Taikisha will promote the introduction of renewable energy (solar thermal energy, etc.), consider waste heat recovery from lower temperature sources, and technology development such as downsizing paint finishing systems and enabling lower baking temperatures in drying ovens. Taikisha will consider adopting next-generation energy sources including hydrogen by 2020.
Contributing to Society through Business
Taikisha developed COVID-19 virus infection prevention products from the viewpoint of social contribution through innovative technology development focused in air-conditioning markets for many years.
Development of "Barrier Cube", an Evacuation Shelter
Taikisha Ltd. has developed "Barrier Cube," an emergency shelter that can reduce the risk of novel coronavirus infection, for use at indoor evacuation centers in times of disaster.
Conventional evacuation shelters typically use curtains and cardboard as partitions to create private spaces. Meanwhile, Taikisha has developed a closed-off private shelter room with a high degree of privacy that can effectively reduce the risk of novel coronavirus infection by maintaining air cleanliness within the shelter through incorporating its proprietary airconditioning technology.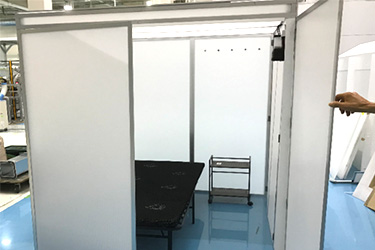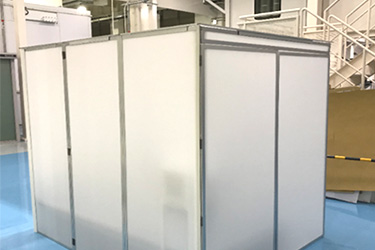 Development of "Air Infection Block Plus," a Transportable High-performance Air Barrier Unit
Taikisha has developed "Air Infection Block Plus, "a transportable high-performance air barrier unit can be easily installed in hospitals and clinics without special isolation wards, such as negative pressure rooms.
Air Infection Block Plus protects healthcare professionals with a "unidirectional air flow" that has a centralized configuration of the air curtain and the air inlet on the patient's side. Moreover, by adopting the sterilization/enzyme HEPA filter, sterilization and virus inactivation*1 by lytic enzymes can be expected from this partition-type air barrier unit. "Air Infection Block Plus," a transportable high-performance air barrier unit that can reduce the risk of exposure to the virus infection simply through installation in a required place such as when Healthcare professional performs medical procedures with patients in face-to face or when medical examinations via specimen collection for PCR tests, etc.
Proprietary enzyme technology enables the enzyme filter to dissolve the envelope shell of the virus and theoretically ensures the inactivation of virus having envelopes.