Relationships with Our Business Partners
Taikisha conducts procurement activities in accordance with the following basic policy based on the principle of fairness and justice.
Compliance with laws and regulations and the spirit thereof
Reasonable selection of business partners and proper transactions therewith
Management of confidential information
Concern for resource protection and environmental conservation
Promotion of trusting relationships with business partners, etc.
Business Partner Selection System
In order to conduct fair and just transactions, Taikisha has set a basic principle of asking more than one business partner to submit a quote. It then selects business partners based on the evaluation of purchase quality (specifications, performance, delivery time, price, etc.). Price negotiations are carried out based on reasonable grounds (past performance, etc.).
Management of Confidential Information
Taikisha strictly manages confidential information, personal information, and client information in accordance with the Information Security Regulations. In order to prevent information leakage, Taikisha requires business partners to make a written pledge on prevention of confidential information leakage, serving as an alert to them to handle such information carefully.
Global Procurement Activities
Taikisha has constructed a system for sharing procurement data of the overseas affiliates to visualize the supply chain and optimize procurement. Taikisha periodically checks the status of execution of agreements with overseas business partners to ensure timely and appropriate fulfillment of agreements.
Exclusion of Anti-Social Forces
Taikisha ensures no anti-social forces are involved in its operations and refuses any request from anti-social forces according to the Taikisha Ltd. Code of Conduct. Taikisha also forbids the employees from having any involvement with anti-social forces. In order to clarify the exclusion of any relationship with anti-social forces from transactions with all business partners, Taikisha signs basic agreements and individual agreements with its business partners that include a clause to exclude anti-social forces. Taikisha signs transaction agreements with new business partners only after it has confirmed that they have no relation with anti-social forces.
Coordination with Business Partners
In order to maintain and continue favorable relationships with business partners, Taikisha holds a liaison workshop with business partners. There, participants study to learn about revisions of laws and regulations related to business transactions, check points to keep in mind, and deepen mutual understanding about a work flow that accommodates changes in society. In FY2019, Taikisha held nine liaison workshops in total targeting approx. 300 companies consisting of equipment contractors in Tokyo, Osaka, Chubu, Sapporo, Tohoku, Kyushu, and Hiroshima.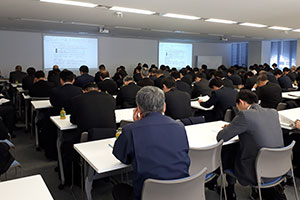 Award of "Excellent Green Procurement Company"
Since FY2011, Taikisha has been granting an award annually to its business partners deemed as excellent companies for having made significant contributions to green procurement and engaged in environmental activities proactively of their own accord, in order to further promote green procurement activities. Upon the presentation of the award, Taikisha conducted an environmental activity survey on business partners, and selected an "Excellent Green Procurement Company" for FY2019 in consideration of the results of the environmental management system (EMS) assessment.